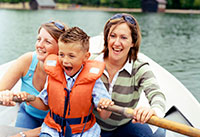 Fostering isn't about your personal circumstances and background, it's about the support you can give to a child.
If you are lesbian, gay, bisexual or transgender and are thinking about fostering or adopting a child, come to our information drop-in event at Winsford Library on Thursday 10 March, 4-6pm, to find out more. We hold regular fostering and adoption information events throughout the year.
We urgently need inspirational people just like you to change a child's future.  In West Cheshire there are teenagers, children over five years old, children with additional needs and sibling groups who are in need of a stable home.  If you think you could help to change a child's future by becoming a foster carer or adoptive parent please complete the online enquiry form or telephone 01244 972222.