Lon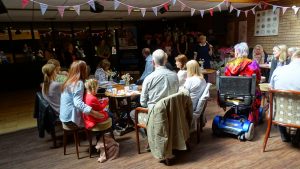 g-service awards for Council's foster carers
Over 50 of the Council's foster carers came together at a tea party held in Chester, during Foster Care Fortnight*.  The event celebrated the amazing work that foster carers do for children in the care of Cheshire West and Chester Council.
During the event, long-service awards were given to 41 foster carers with more than 10 years of service – with three of the carers receiving awards for looking after cared for children for over 30 years. 
The Council currently has around 485 children in its care and 190 approved foster carers.  There is an urgent need for more people to come forward that are willing to care for some of the most vulnerable children in the borough.    
The tea party provided an opportunity for foster carers to come together to share their experiences of fostering children and young adults across west Cheshire and to talk about the challenges and rewards that being a foster carer can bring.
Jackie Rowbottom who has fostered more than 250 young people over the past 43 years said: "Being a foster carer is one of the most rewarding jobs you can do.  The pleasure you get from seeing a child in your care grow into a confident individual that feels secure and able to go on to achieve what every child dreams of, for me means everything."
Emma Taylor, Director of Children's Services, added: "It was wonderful to meet so many of our foster carers face-to-face and to say thank you for the great work that they do. Our foster carers play a significant role in making sure all our children get the best possible start in life and providing a safe and stable home environment is a key factor. We are extremely grateful for everything they do."