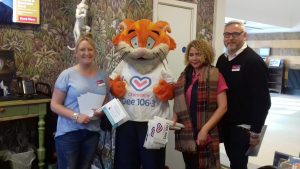 Choosing to foster is a decision that affects the whole family. During October, the sons and daughters of foster families are celebrated for the significant contribution that they make by welcoming foster children into their families. Some sons and daughters will be sharing their experiences with people interested in fostering at an information event in Chester.
Cheshire West and Chester Council believes that every child deserves the best start in life and is encouraging people that have been considering fostering, and those who are just starting to think about it, to find out more. You can find out more about how to foster whilst raising your own sons and daughters at the next information event at Storyhouse in Chester on Sunday 15 October, 10am – 12pm.
You can meet staff and talk to families that already foster to discover more about the realities and rewards of caring for some of the borough's vulnerable children. 13-year-old Josh Boyd, a member of the Council's Sons and Daughters group, will entertain visitors by performing a number of songs on his guitar. There will also be fun craft activities, games and music to entertain all the family.
Councillor Nicole Meardon, Cabinet Member for Children and Young People said: "I'd like to thank every one of our foster families and their sons and daughters who help to welcome foster children in to their family and home. Their support is essential in helping us to protect some of our most vulnerable children.
"Every foster family has their own story to tell about their fostering journey and I would urge any families thinking about fostering to come to the information event to speak to some of our volunteers and find out about the support on offer."
The Council urgently needs foster carers to provide a nurturing and stable home for children and young people in our care. We'll support your family every step of the way and provide ongoing training and advice to both adults and children, along with a competitive financial package – fees plus allowances of up to £422 per week per foster child.
The children of foster carers can join the Council's Sons and Daughters group, run by the Fostering team to provide support for young children and teenagers. During October, current members of the group will be treated to a special screening at Storyhouse with goody bags and thank you cards that acknowledge the support and friendship they offer foster children. The sons and daughters that have volunteered to share their experiences with visitors at the event on Sunday 15 October will also be given complimentary tickets to a Christmas production at Storyhouse.